So, I'm an Ironman.  I know it because Paul Kaye said it.  He's the voice of Ironman here in South Africa.  As you run down the red carpet to the finish line of an Ironman race, it's announced "Geoffrey Smith, You ARE an IRONMAN".  Every age group athlete has fantasized that Ironman moment and hears those words in their head while imagining it over and over.  On many long runs, bike rides, or pool workouts I played out the red carpet moment, crossing the finish, hearing those words.  That moment would be an ultimate moment of this journey
.  "You ARE an IRONMAN"!  I also know it because I have a photo of myself crossing the finish line!
I've had my eye on Ironman events in South Africa since we arrived on the continent in 2010.  When we decided to move to South Africa 2 years ago, access to those events was real.  After connecting with TRIFACTRI a year ago, I knew my opportunity for taking on a full Ironman was a reality.  My decision was made to register and commit to the training journey in August, 2016.  I set the target, and set the height of the bar.  In my 61st year I latched onto a hope with enthusiasm, excitement, and committed passion.  I am blessed, lucky, and grateful.  To have the capacity to latch on with such intensity, at this point in my life, feels really special.
If you can put in the time for the training, you can do an Ironman.  Since August 2016, I swam 150 km in 75 hours,  I biked 3800 km over 224 hours, with an additional 40 hours on the bike trainer (while watching Netflix!) and I ran 610 miles in around 110 hours. I've committed around 450 hours to preparing for the Ironman!  I know, because my "masters" over the months – my Garmin watch and Training Peaks app – don't lie.  My life was focused upon preparing for April 2, 2017.  Lucy and Des laid out the path, I just needed to step up and do it!
Race Day finally arrived on the morning of April 2!
Rise at 3:45. Breakfast at 4:00.  Two dozen wide awake athletes eating the hotel buffet, quiet silence permeates the restaurant.  One guy orders an omelette with 10 egg whites!  Seemed a little extreme compared to my plate of scrambled eggs and I chuckle to myself! He must really know what he's doing!  There's a shared experience and a long day of extremes lies ahead.   A 5:00 date with my sweet Quintana Roo in the transition zone to make sure there's air in my tires! It's a dark and cool
morning. The breeze off the ocean is gentle, the transition zone packed with 2300 bikes.  Last minute adjustments to the run and bike bags, air in tires, minor bike checks.
The coolness of the sand is noticeable and I converse with strangers as we all await the start on the beach. It's good to run into Johan from Trifactri and we're on pace to enter the water together. The South African national anthem welcomes a gorgeous sunrise. Sunset is 12 hours away!  We begin to edge closer to the swim. Nervous energy, helicopters buzz and hover overhead and the crowd of thousands lines
the beach.  It is a special feeling.  Collectively, we just want to start, to feel the water and make that first left turn at the red buoy floating 300 meters off shore.
I enter the chilled Indian Ocean, allow my wet suit to settle onto my skin, the thin layer of insulating water mitigates cold. After 8 months of preparation (and 400+ hours of preparation), I'm off.  I need to compose myself in the first 100 meters, calm my nerves, regulate my breathing, empty my mind of negative or doubting thoughts, find a rhythm.  The chop of the water and the swells make the first 2000 meters challenging.  I absorb several mouthfuls of
seawater! Left at the first red buoy, then count the four yellows at 400 m apart until the next red.  One buoy at a time, patience, and keep your sights on the crane in the distance!  It was a bumpy ride.  The return felt smoother, easier to site the Radisson Blu hotel tower and the pier.  The end in sight!  The final right hand turn and 300 meters to the beach.  I body surf a wave, sort of!  Generally, you are expected to sprint through transition, save time, and get out on the bike course.  Sprinting was not a consideration. I needed a moment in a chair to strip off the wet suit, dry the feet, put on the socks and biking shoes…..and find my way to the bike.  A long day was lay ahead.  The 180 k cycle was a spectacular ride along the Indian Ocean coastline.  4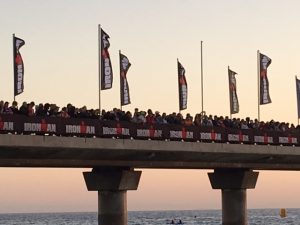 5 km out, 45 back and Repeat!  I knew the ride would be between 6 and 7 hours. The day would be warm, the sun intense, and of course where you have ocean riding there's always WIND.  While not too bad, there were definite headwinds.  I return to the city after 90 km and head back out. Halfway is significant and now that I have the map of the course in my mind, the 2nd lap will be easier.  Headwind out, tailwind back!!   My Quintana Roo triathlon bike moves beautifully on a slight downhill, with a tailwind! Perhaps I'm a stronger with a tailwind?   I was satisfied
with the bike ride, though I always believe I can move a bit faster.  I entered the 2nd transition with some wobbily legs, while knowing I had at least a 5 hour marathon in front of me on the 4 lap run course.  I've never run more than 26 kilometers (or 3 hours) at a time, now I had 42 k (and 5 hours) in front of me.  But, likewise, I'd never biked 180 km or finished a
3.8 km ocean swim, each part of the day was a new personal best on my Garmin watch!!  It took a couple of km for my reluctant quads and resistant calves to get the message.  Yet, I truly felt strong on the run through the first couple of laps.  Marine Drive was lined with thousands of cheering spectators who yelled out your name with brilliant energy and encouragement. I ran with a smile from ear to ear, slapping high fives, and soaking up the moments. My Trifactri mates shouting encouragement as we passed one another. The heat of the afternoon began to cool as evening approached.  The shadows of the buildings lengthened. The sun, lower in the sky, could now only be found in breaks between buildings. The wind picked up and half of the run course was into a headwind which, as evening approached, cooled by the minute.  Running with a tailwind, though more
pleasant than a headwind, simply doesn't ensure the same impact on speed as it does on a bike.  The wind doesn't pick you up and increase your stride length.  It's still one foot in front of the other. The sun disappeared, the wind continued to be a factor, and darkness over took parts of the course.  With each lap, there were fewer triathletes on the course, as more finishers found the red carpet, Marine drive emptied. The crowds thinned but ardent supporters remained.  I would find my way to engage in various conversations with other athletes to pass the time and look forward to every 5 km when I would see Rhona or Corey – my dedicated support.
On each lap runners are given a cloth bracelet – a band. You collect your 4th as you head out on your final lap.  Slipping that 4th band on was a defining moment.  I was not returning to this end of the run
course!  I was headed home in 8 km!    But the last 10 k were less than friendly.  Nausea and tightening muscles were upon me. The nausea was a bother. After 12 hours of gels, power bars, coke, and water my system was in revolt!  My game became street lamp to street lamp – walking and running.  Alternating lamps was my strategy.  Move Forward!
Over the last 2 km I increased my speed!  I was there, ready to finish.  The red carpet looked spectacular.  Bright lights, still a cheering crowd,  the music, the voice of Paul Kaye.  My arms pumped as I crossed the line…..and
then it was behind me. 14 hours and 11 minutes from the time I stepped into the water!  I only wish I would have stood on that finish line and absorbed the moment. (Not to mention a better photo!)  Instea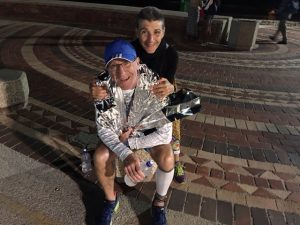 d, the medal was slipped over my neck, a volunteer wrapped me in a space blanket…..and I searched the dark for a place to sit down! Exhausted, satisfied, thrilled.  But, oddly, I didn't feel emotion.  I was numb,
nauseous, and fighting to stay coherent…..I didn't know what to expect, but I knew my body needed to rest and my thoughts needed to be calmly gathered.  The hug from Rhona and the photo with Corey……..made my day.  If they hadn't been there I'm not sure how I would have contained myself.
FB supp
ort and encouragement was incredibly positive and important over the IM weekend. Rhona posted photos during the day.  I felt this immense wave of support from friends new, old, and "very" old (read-childhood friends – those who warmly take us back to our teen years when they call me SMITTY), former students, and family members around the world. The messages were more than humbling.  Training for an endurance event is lonely. I spent many hours running, biking, and swimming alone with my thoughts over the past 8 months but throughout the Ironman weekend, I felt alive with connections and support.  A consistent piece of advice from experienced Ironman athletes was to enjoy the moment. I did. I embraced it. I absorbed it all.
I am grateful.  Grateful to Cygni for the twice a week physical training sessions for Rhona and I at home.
Grateful to Renata my physical therapist for ensuring my legs are strong and loose.  Grateful to Lucy and Des and the Trifactri team.  Grateful to my Trifactri mates who supplied encouragement during training rides and races. Grateful to my co-workers who offered so much support. Above all, grateful to Rhona who has journeyed with me over the years in our athletic pursuits – from Indonesia to Ghana to South Africa!  We love our rides together.
Thousands of people do Ironman events each year.  Yes, doing an Ironman is a big deal but it's entirely achievable if you can make a commitment to the training and to a training plan. I am so very happy and proud to have accomplished my goal. It is a special feeling.   Will I do it again?   I want to better my time and position in my age group!  Maybe that's my challenge. Maybe that's my commitment. For now, I'm enjoying my weekend and I didn't have to wake up to an alarm and a workout!!!