In Mid-March, approximately 70% of the LCS students participated in an online student survey.  I haven't posted all the results but here is what students said about certain items.   The goal of the survey was to gather student feedback on the culture of the school.  In addition, it is an opportunity to gather student feedback on the vision of the school.
Let me start with a few bottom lines for me.  I consider a school to be successful if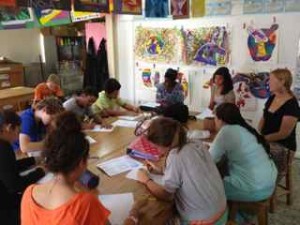 students and faculty are engaged in learning, are eager to come to school daily, are setting and responding to high expectations and challenge, and are engaged with a variety of interests and activities.  I believe students must feel safe, supported, connected and cared about.  School should be fun.  Finally, school should help build resilience in students in overcoming obstacles and challenges.
It's important that students are engaged with school.  It's essential.  It's a must.  My hope is that all students must will enjoy coming to school every day.  My hope is that all students feel positive about the challenges.  In our survey 80% of our students state that they enjoy learning with their classmates.  That is positive.  BUT that means that 20% of our secondary school students may not be enjoying school daily and do not enjoy learning with their classmates.  That's 1 out of every 5 students.  Line 5 students up and on average one of them is not enjoying themselves regularly at school.  My hope is that all students feel engaged and positive about their secondary school experience.  That's my hope and I will continue to hold onto that hope.  My pledge is to continue working to help set the conditions for students to develop positive attitudes and a zest for learning and a  passion for work!  I will persevere towards that goal.
I also note that students feel positively about their teachers.  They believe that teacherscare about them, hold students to high expectations, provide challenges for them. 90%  of students agree with statements related to these questions.  That's very high and I am very pleased.   Students believe that there are adults for them to turn to when they need to talk.  It is essential for students to feel that a teacher is prepared to listen and advocate for them. Student – Teacher relationships are critical.  Students need mentors. Teachers are often able to serve in that capacity. I am pleased that students feel positive about the teachers in their lives.
Having reviewed student results from the student survey I am struck by one response that has me worried, baffled, disappointed, and concerned.  In response to the statement "Students get along with each other and treat each other with respect" 35% of students were in disagreement.   That is 1/3 of our student body that believes that students treat one another disrespectfully.
That's a shocking amount.  The actual percentage this year was 64% agree and 36% disagree.  Last year , 71% of the student body agreed and 29% disagreed. This is not the type of growth anyone wants for the secondary school.
What are we going to do about this?  While it is positive that 2/3 of our student body believes that students do get along with one another and are respectful, 1/3 do not believe this to be true.  What are you, as students, going to do about this?
Where are the problems?  Are they in specific grade levels? Is it throughout the secondary school?  Is it more strongly felt in the middle school vs the high school? I am very curious about this and would like to here from students on this matter.  What needs to happen?  I challenge the student body to tackle this issue and create an environment in which a larger percentage of the student body perceives that we are a respectful population. 
I will continue to share more information about this topic and results on a variety of matters.   We must continue to get better as a school. Student feedback is essential.  There are many positive items in the student survey that I wish to highlight.  There is much to celebrate at LCS.  Students must take the lead in helping build a strong and positive culture and atmosphere throughout the school.